I'm excited that Alyson Beecher, at
Kid Lit Frenzy
, is continuing her Nonfiction Picture Book Challenge for the fifth year in a row!
Freedom in Congo Square
by Carole Boston Weatherford, illustrated by R. Gregory Christie
This is a beautifully written and illustrated book about Congo Square in New Orleans, a place that slaves could enjoy on Sundays by dancing, playing music, and getting together to relax. I would like to use this book with kids for text structure. Weatherford chose to open her story with a Foreword that gave a lot of background information on Congo Square. I imagine she decided that because the text in the main body of the book is sparse (told in verse). I've always wanted to go to New Orleans, and this book gave me a new reason!
Oh, I loved this biography about weaver and artist, Louise Bourgeois! I was fascinated by her and by the illustrations in this book. Amy Novesky and Isabelle Arsenault wove a beautiful biography together - one that captures the depth and symbolism of Bourgeois's creative life. I'd love to see her artwork in person, even though the spiders are a little creepy!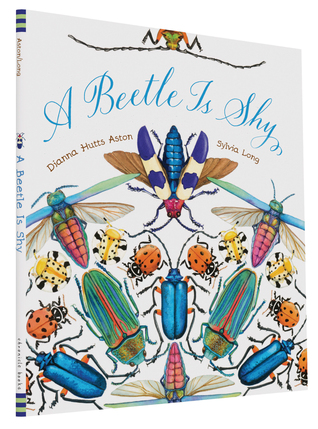 A Beetle Is Shy
by Dianna Hutts Aston and Sylvia Long
I can't imagine ever giving less than 5 stars to one of Dianna Hutts Aston and Sylvia Long's collaborative creations! They have once again made you look at nature in a new and appreciative way. Even beetles! Wonderful!
Flying Frogs and Walking Fish
by Steve Jenkins and Robin Page
Steve Jenkins and Robin Page keep finding new ideas about animals and nature to write about and illustrate. In this one, they explore unusual ways animals move. I love the "Whirling, tumbling, somersaulting..." pages. I also enjoyed seeing the tree-climbing goat. I recently watched a segment on t.v. about the tree goats of Morocco and Argan oil. Fascinating!
Fearless Flyer: Ruth Law and Her Flying Machine
by Heather Lang, illustrated by Raul Colon
I was interested in Ruth Law and her fearless flying since I didn't know anything about her. What an amazing feat she accomplished - breaking an American nonstop flight record from Chicago to Hornell, NY! Her goal was New York City, however, so after refueling and stopping one more time, she made it to Lady Liberty and flew around her to a welcome band upon landing. Great illustrations by Raul Colon! The only thing I didn't like about the book was that it jumped in too fast in the beginning. I would have liked more information about how she got into flying.
Solving the Puzzle Under the Sea: Marie Tharp Maps the Ocean Floor
by Robert Burleigh, illustrated by Raul Colon
Another book beautifully illustrated by Raul Colon! This is also a person I knew nothing about, like Ruth Law above. Kids will be interested in knowing how Tharp measured the ocean floor and figured out how to map it. When I taught social studies, I thought the maps and globes unit was somewhat dull. This book would add a little spice and give kids food for thought about how the first maps were made. I'm not sure I loved the choice Burleigh made in making it first person, but it would make a good discussion with students about literary choices in telling nonfiction stories.