I'm excited to participate in
Cathy Mere's
and
Mandy Robek's
August 10 for 10 Picture Book Event! This my 5th year to participate. Check out the huge Google + community!
Our building principal chose Mindset: The New Psychology of Success for our staff book study this year, and I've really enjoyed the concepts author, Carol Dweck, Ph.D. teaches us. The major concepts about adapting and honing a growth mindset are:
1. We need to look at obstacles, challenges, and problems as opportunities to learn and grow.
2. Mistakes and failures are normal - what can we learn from them? How can they make us change and grow?
3. Hard work is more important than talent (as teachers we need to guard against praise for talent and give specific, not evaluative, feedback).
4. A fixed mindset can cause despair and/or superiority.
I am a gifted intervention specialist for 5th and 6th grade ELA. A good number of my 5th graders struggle when they first get to my class. I have students who cry or shut down when given difficult tasks or specific feedback for improvement. I think they're very used to high praise. Many of them are perfectionists and don't want to make any mistakes or be told they could grow to be better writers, readers, etc. They either think they're already "perfect" or they despair at not being smart enough to do the work I expect. I know they're not perfect AND I know they can work hard enough to achieve what I think they can. The growth mindset model is very important for gifted learners (and of course, every learner). They can make mistakes, continue to grow, and continue to be commended for hard work, not talent/intelligence alone. These books show how mistakes can be made into opportunities, hard work and persistence pay off, and circumstances and talent don't control destinies.
These picture books can promote and teach a growth mindset:
Lost. Found. by Marsha Diane Arnold, illustrated by Matthew Cordell
With Books and Bricks:How Booker T. Washington Built a School by Suzanne Buckingham Slade, illustrated by Nicole Tadgell
"Success is to be measured not so much by the position one has reached in life as by the obstacles which he has overcome while trying to succeed." - Booker T. Washington
Ada's Violin: The Story of the Recycled Orchestra of Paraguay by Susan Hood, illustrated by Sally Wern Comport
Maybe Something Beautiful: How Art Transformed a Neighborhood by F. Isabel Campoy, illustrated by Rafael Lopez
Whoosh! Lonnie Johnson's Super-Soaking Stream of Inventions by Chris Barton, illustrated by Don Tate
The Fantastic Ferris Wheel: The Story of Inventor George Ferris by Betsy Harvey Kraft, illustrated by Steven Salerno
What Do You Do with an Idea? by Kobe Yamada, illustrated by Mae Besom
Rosie Revere, Engineer by Andrea Beaty, illustrated by David Roberts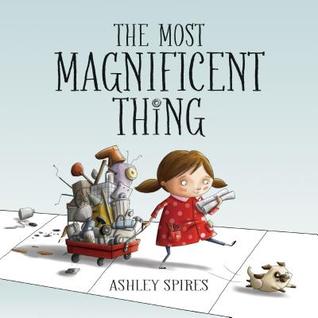 The Most Magnificent Thing by Ashley Spires
Okay, one more that cannot be forgotten!
Beautiful Oops! by Barney Salzberg
BONUS (One that came out early July, but I haven't read yet, by the same author who wrote What Do You Do With An Idea?! - I know it has to be fabulous for growth mindset!)
What Do You Do With A Problem?
Also (yes, it's always hard to stop at 10), it's important to adapt a growth mindset after grief/ loss or depression/anxiety so I think these picture books give us hope and resilience. Plus, I always have to have an excuse to put my all-time favorite picture book on a list like this - it's amazing how many categories it fits!
The Red Tree by Shaun Tan
City Dog, Country Frog by Mo Willems, illustrated by Jon J. Muth
Yes, this is my all-time favorite picture book.
I'd love to hear any additional picture books you think would promote a growth mindset!