Thanks to
Carrie Gelson
, I make a #MustRead post at the beginning of the year. She asks us to reflect upon our lists at the end of the year. You can read my #MustReadin2016 post
here
. I didn't read every book on my list, but I read a good amount. Here is my update:
1.
PAX by Sara Pennypacker
Read March, 2016
This was one of my favorites of the year! I read it for our staff middle grade book club, and also as a read aloud during the Global Read Aloud this year. My 5th graders LOVED it. It's also my pick for the 2017 Newbery Award. It's loaded with amazing writing - symbolism, interesting points of view, layered characters, beautiful imagery, deep themes, intriguing structure and plot lines. It's got it all!
2.
See How They Run by Ally Carter
Didn't read.
3.
Raymie Nightingale by Kate DiCamillo
Read May 28, 2016
I didn't realize how much I loved this book until the last line. It kind of snuck up on me! This was one of our middle grade staff book club picks.
4.
Audacity Jones to the Rescue by Kirby Larson
In Progress
I got a chance to meet Kirby at NCTE because she was on an historical fiction panel I chaired. She's fantastic!
5.
Hour of the Bees by Lindsay Eager
Read April 8, 2016
So, so good! Another of our staff middle grade book club books. We had a great discussion, and it's been a hit with my students.
6.
Carry On by Rainbow Rowell
Read March 6
I enjoyed this one - full of witty humor and a compelling story. LOVED meeting Rainbow at OCTELA in February!
7.
Lily and Dunkin by Donna Gephart
Currently listening to the audio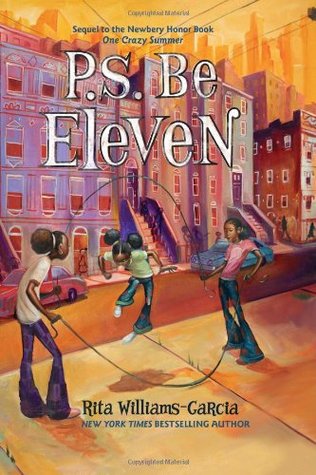 8.
P.S Be Eleven by Rita Williams-Garcia
Read Feb. 6
This is a great series! I got to meet Rita at NCTE, also, because she was on my panel along with Kirby (and Janet Frost, Linda Sue Park, and Augusta Scattergood - I lucky am I?!). Rita is so smart and funny. Loved hearing her talk about her writing process and philosophies.
9.
One Crazy Summer by Rita William-Garcia
Read Feb. 16
10.
Boy in the Black Suit by Jason Reynolds
Haven't read yet, but I DID read
Ghost
and
As Brave As You
this year, and I got to see Jason on an NCTE panel with Laurie Halse Anderson. Man, did I love listening to them!!
11.
Out of Darkness by Ashley Hope Perez
Didn't read.
12.
The Ghosts of Heaven by Marcus Sedgwick
Didn't read.
13.
The Boys Who Challenged Hitler
by Phillip Hoose Read Feb. 21
I listened to the audio of this, loved it, and then decided to read it aloud to my 6th graders during our social responsibility unit. It was a big hit, and we wrote arguments about freedom vs. safety.
14.
Turning 15 On the Road to Freedom by Lynda Blackmon Lowery and Elspeth Leacock
Read Feb. 6
This is another one I read on my own first, and then decided it would make a great read aloud. I was right!
15.
George by Alex Gino
Read Feb. 5
16.
The Porcupine of Truth by Bill Konigsberg
Didn't read.
17.
Simon vs. the Homo-Sapiens Agenda by Becky Albertalli
Read March 31
18.
Most Dangerous by Steve Sheinkin
Didn't read.
19.
The Unlikely Hero of Room 13B by Teresa Roten
Didn't read.
20.
Booked by Kwame Alexander
Read April 25
While this one didn't impact me as much as
Crossover
, it's still good, and some of my kids like it even better.
21.
Red: The True Story of Red Riding Hood by Liesl Shurtliff
In progress.
22.
Salt to the Sea by Ruth Sepetys
Didn't read.
23.
The Rose Society by Marie Lu
Didn't read.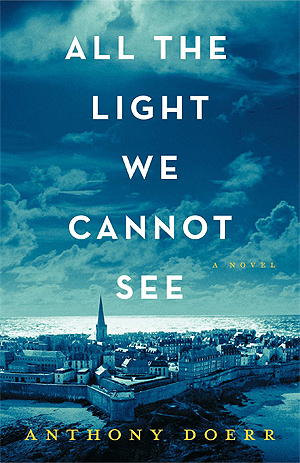 24.
All the Light We Cannot See by Anthony Doerr
Read May 31
Wow - this one was beautiful and a masterpiece!
25.
My Grandmother Asked Me To Tell You I'm Sorry by Fredrik Backman
Didn't read.
26.
Me Before You by Jojo Moyes
Read March 28
I was scarred when I read the book, and then I scarred myself again when I saw the movie!
27.
The Husband's Secret by Liane Moriarty
Read July 15
I love Moriarty's books - they're all intriguing and compelling! Read the newest one recently, as well -
Truly Madly Guilty
. I liked it, as well. My favorite of hers is
Big Little Lies
, but I haven't read What Alice Forgot. Maybe I'll put that on my 2017 list!
28.
Catalog of Unabashed Gratitude
by Ross Gay In Progress
29.
The Lake House by Kate Morton
Didn't read. Will put on 2017 list, though.
30.
Between the World and Me by Ta-Nehisi Coates
Didn't read.
31.
The Soul of an Octopus by Sy Montgomery
Didn't read.
32.
Mechanically Inclined by Jeff Anderson
This is a book that I started, loved, skipped around in, etc. I'm considering it In Progress, but can't really count it as read yet. Love Anderson's ideas!! I enjoyed meeting him and learning from him at All Write this past summer.
33.
Writing with Mentors by Allison Marchetti and Rebekah O'Dell
Didn't read, but I did attend a session they led at one of the literacy conferences I went to this year and really enjoyed it. I'll be reading this eventually!
34.
Writers are Readers by Lester Laminack and Reba Wadsworth
Didn't read.
35.
Making Nonfiction from Scratch by Ralph Fletcher
Didn't read. Yikes! I didn't read the professional books I wanted to. I DID read
The Journey is Everything
by Katherine Bomer, and got a ton out of it. Still trying to process how to incorporate her ideas into how I teach essay writing. I also read both
Notice & Note
books by
Kylene Beers and Robert Probst
and have been incorporating them into my teaching. I love their strategies!
Hmmm...read 14 out of 35. A few in progress. Not quite half. Oh well. Some of these will go on my #MustReadin2017 list that I'll publish next week, and some I will let go.
Now, my favorite books of 2016 - I met my Goodreads goal of 200, and these books stood out:
BEST MIDDLE GRADE BOOKS
1.
PAX
by Sara Pennypacker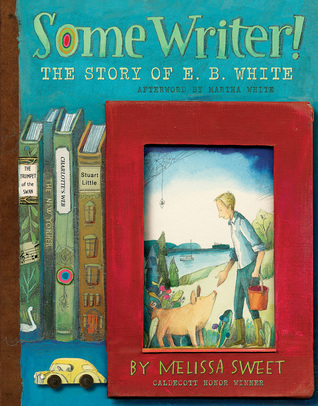 2.
Some Writer!: The Story of E.B. White
by Melissa Sweet
3.
Wish
by Barbara O'Connor
4.
Some Kind of Courage
by Dan Gemeinhart
5.
Wolf Hollow
by Lauren Wolk
6.
Hour of the Bees
by Lindsay Eager
BEST FICTION PICTURE BOOKS
1.
The Uncorker of Ocean Bottles
by Michelle Cuevas, illustrated by Erin Stead
2.
Ida, Always
by Caron Levis, Charles Santoso
3.
They All Saw a Cat
by Brendan Wenzel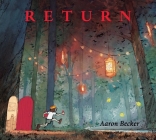 4.
Return
by Aaron Becker
5.
The Airport Book
by Lisa Brown
BEST NONFICTION PICTURE BOOKS
1.
Ada's Violin: The Story of the Recycled Orchestra of Paraguay
by Susan Hood, Sally Wern Comport
2.
Some Writer!: The Story of E.B. White
by Melissa Sweet (putting this in two categories - it HAS to win an award in January!!)
3.
Cloth Lullaby: The Woven Life of Louise Bourgeois
by Amy Novesky, Isabelle Arsenault
4.
My Book of Birds
by Geraldo Valerio
5.
Pink is For Blobfish
by Jess Keating
BEST YOUNG ADULT BOOKS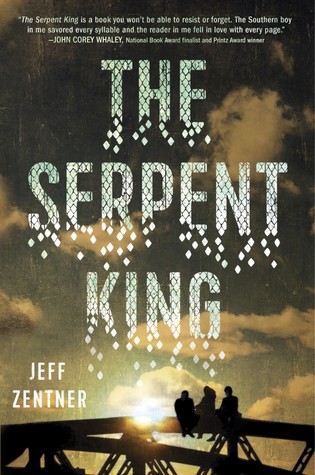 1.
The Serpent King
by Jeff Zentner
2.
The Memory of Things
by Gae Polisner
3.
The Boys Who Challenged Hitler: Knud Pedersen and the Churchill Club
by Phillip Hoose
BEST ADULT BOOKS
1.
All the Light We Cannot See
by Anthony Doerr
2.
A Mother's Reckoning: Living in the Aftermath of Tragedy
by Sue Klebold
BEST POETRY (Picture books)
1.
A Poem for Peter
by Andrea Davis Pinkney
2.
When Green Becomes Tomatoes: Poems for All Seasons
by Julie Fogliano
3.
Before Morning
by Joyce Sidman, Beth Krommes
4.
Daniel Finds a Poem
by Micha Archer
5.
Freedom in Congo Square
by Carole Boston Weatherford, R. Gregory Christie
BEST AUDIO BOOKS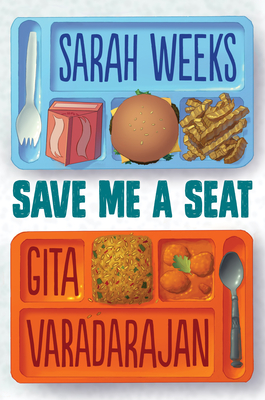 1.
Save Me a Seat
by Sarah Weeks, Gita Varadarajin
2.
Ms. Bixby's Last Day
by John David Anderson
3.
The Key to Extraordinary
by Natalie Lloyd
4.
The Charmed Children of Rookskill Castle
by Janet Fox
5.
The Trumpet of the Swan
by E.B. White (even though this isn't a 2016 book, I had to include it because I was inspired to listen to it after I read Some Writer!, and it's narrated by E.B. White. Wonderful!!!
Looking forward to what 2017 brings in books!!