Welcome, friends! Thank you for coming back since I was gone in the Czech Republic and couldn't post last Thursday. I know you still continued your spiritual journeys, and I can't wait to read about them this week!
Many, LORD my God, are the wonders you have done, the things you planned for us. None can compare with you; were I to speak and tell of your deeds, they would be too many to declare. - Psalm 40:5
This verse captures my dilemma with how to describe Katie's and my trip with our church's mission team to Czech Republic. Our time in English camp and Prague was so filled with wonders, it is hard to put into words. If you saw my Facebook posts, you were able to see how beautiful the country is, and the faces of the people we got to know. I will attempt to tell a little about what Katie and I learned. Sorry, it will be a long post today! We learned that:
1. Prayer works.
We were covered in prayer. One of our names was in each church bulletin on the Sunday we were commissioned to be prayed for, and I know friends and family throughout the world were praying for us. Our traveling (3 connections, 4 airports) couldn't have gone smoother, even with a first time 17-yr-old flier! When we got to our destinations, everything went as planned. People took care of us coming and going. Thank you to all our prayer warriors!
2. The spiritual gift of hospitality is real.
I can't say enough about our hosts, Jana and Petr, in Prague. I also know the other half of the team who stayed with another Jana and Petr (very common names in CR) and their neighbors, felt the same way. We were fed, driven, housed, and loved. Jana even did our laundry when we came back from the camp - washed it, hung it on the line, and folded it neatly. The spreads of food that were put out for every meal were delicious, and everything was done with a smile. They brought the verses in 1 Peter 4: 8-10 to life:
Most of all, love one another deeply. Love erases many sins by forgiving them.
Welcome others into your homes without complaining.
God's gifts of grace come in many forms. Each of you has received a gift in order to serve others. You should use it faithfully.
3. God equips you with the tools necessary to do His work.
The beginning of English camp was a little challenging. Katie and I were put in charge of the kids, ages 4-12. We had planned lessons beforehand, but we really didn't know what to expect. On the first day, two brothers in the class had a physical fight! There were all levels of ability, and our plans needed tweaking to work correctly. By the end of that first day, I was in a full sweat! Fortunately we had a Czech translator, Dominica, who helped bridge our communication gap, and could help us brainstorm solutions. We talked to the parents of the brothers and decided to pull the older one up to the adult beginner group. They were very receptive and thought that would be a good idea. It turned out perfectly. The rest of the week went smoothly and we were able to teach the kids a lot, and we had fun.
4. Children are similar everywhere.
The kids in the class were delightful. They reminded me a lot of my own students. There was the one that followed directions and was a "perfect" student, one with a glint of mischief in his eyes, the one whose smile melts your heart and helps without asking, the one who giggles and makes you laugh, the one who lets you know he likes you in subtle ways, etc. The littlest one, Ana, was four and loved rabbits (which she pronounced with a rolling "r" and "ee" sound for the "i") and made all our crafts into a version of a rabbit. ;-) They loved jumping on the trampoline during breaks and teaching us Czech words while laughing at our attempts. ;-) They all wanted to learn, have fun, and feel understood. We figured out their needs and tried to provide for them. They lit up when we gave them what they needed. No wonder God loves children so much! Matthew 19: 13-14:
Then people brought little children to Jesus for him to place his hands on them and pray for them. But the disciples rebuked them. Jesus said, "Let the little children come to me, and do not hinder them, for the kingdom of heaven belongs to such as these."
5. God takes care of our needs, however small.
One morning, I was craving blueberries and raspberries because I eat them for breakfast every day at home. We were provided so much wonderful food, but those berries were missing. It seems really silly that I wanted them because we were certainly not deprived of anything. That evening at dinner, the oldest boy in the class (the one that got in a fight with his older brother) walked up to me and handed me a white bowl of freshly picked wild blueberries and raspberries and said in perfect English, "This is for you." I couldn't have been more thrilled and thankful.
6. God is an awesome God, and He reveals this through natural and man-made wonders.
The Czech Republic was a feast for our eyes. The mountains, cottages, flowers, and architecture kept surprising us at every turn. Bedrichov, the ski resort area where we taught English camp was beautiful and picturesque. Prague is absolutely breathtaking. Pictures can't possibly capture the awesome sights we saw.
7. We are meant to stretch ourselves spiritually, physically, and emotionally.
God does not want us to be too comfortable. That doesn't mean he wants us to be unhappy; He wants us to experience the joy we can feel only when we are following Him, and sometimes that takes us out of our comfort zone. However, if we stay close to Him, He will provide what we need. We weren't always comfortable on this trip. It was a long way to travel, the food was good but different, we missed our own beds and creature comforts, and communicating was difficult. Through those minor discomforts, though, we learned so much. I finished a book called
Not a Fan by Kyle Idleman
while I was there, and it was very convicting. I highly recommend it.
8. Laughter and music crosses all language barriers.
We enjoyed music every day of camp - from the accordion/violin duo Cricket and Snail, to guitar and singing every morning in devotions, to spontaneous "concerts" performed by the amazingly talented musicians we had staying at our camp. We also laughed a lot. There was a baby there named Kathy that lit up with a smile every time we looked at her. We laughed at jokes and the costumes during the carnival. We laughed at Marek's childhood escapade stories, the kids teasing us about speaking Czech, and with the teenagers while we celebrated one of the camper's 13th birthday. It doesn't matter if we couldn't speak each other's language perfectly. We still enjoyed each other's company.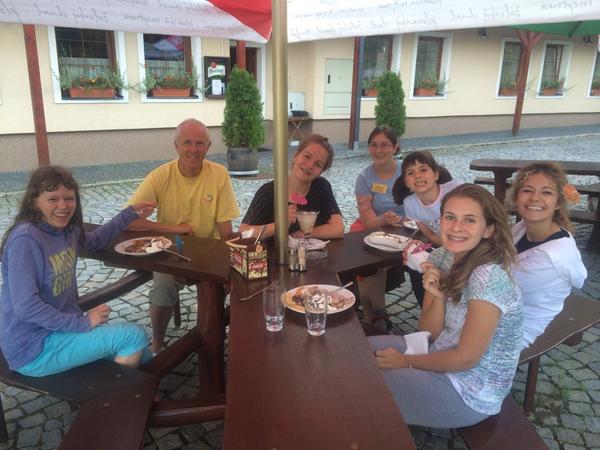 9. We are so fortunate to live in a free country.
The world contains so much. We were so lucky to see another part of it. It's amazing that you can start out from the small American town of Lebanon, OH, and within 24 hours end up in a European country that was once ruled by the Communists. Traveling always fascinates me. We learned so much about the history and culture of the Czech Republic, especially since we were there to stay with Czechs and not just visit as tourists. One of the best books about Prague I can recommend to you that you can read in a short amount of time, but captures what has happened in its recent history is
The Wall
by Peter Sis. Our hosts lived during the Communist regime and suffered much because they were Christians when it was against the law of the land. The memories of Communism and the Revolution are fresh in their minds and shape a lot of what they are. The Christians we met are struggling because the Czech Republic is one of the least religious countries in the world. Churches have low attendance and many are empty. It's very difficult to start up new churches. We take so much for granted.
10. Making connections is so important.
Forming relationships and making connections with people is the reason we were put here on Earth. I loved the time I spent with Katie, our mission team, and the Czech people. Even when there were challenges, it was worth working through them.
I totally understand if you didn't work your way through this whole post! I hope I expressed what we experienced clearly. I know some of you prayed for us, and you encouraged us with your comments. Thank you!!! I'll leave you with a music video that was shared on Facebook this morning. Please share your own posts on AWE and WONDER if you feel led, or if you'd like to write about something else, please do! I learn so much from your linked posts!