Join Alyson and others at
Kid Lit Frenzy
for a nonfiction picture book bonanza each week!
Before I feature the nonfiction picture books I read this week, I want to make a plug for the amazing background knowledge nonfiction picture books can provide for our kids (and ME). Lately, I've been noticing how many times I realize I know about a person, event, or other tidbits because of the amount of books I read for this nonfiction picture book challenge. I know my students benefit from those books, too. Here are some things that have come up recently: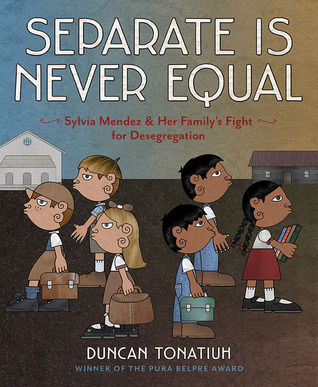 I've been listening to the audio of
Echo
(which is brilliant) by Pam Munoz Ryan, and one of the stories takes place in 1942 and is about a girl of Mexican descent who is sent to an alternative public school in order to "Americanize" Mexican children. Immediately, I thought of all I learned from
Separate is Never Equal
by Duncan Tonatium and felt smarter! The same story covers Japanese American Internment during the same decade. I recalled when I book-talked
Dash
by Kirby Larson, my students already knew about that era of Internment because the media specialist had read
Baseball Saved Us
!
On Saturday night, my husband and I went to a play in Cincinnati at the Playhouse in the Park. We were taking a look at the upcoming 2015-2016 season, and I noticed "Satchel Paige and the Kansas City Swing" was one of the productions. I told Ed I wanted to see that next year. He wondered how I even knew about Satchel Paige because he knows I'm not really a baseball fan. I told him I read a picture book about him called
Something to Prove
!
Because of
A Nation's Hope: The Story of Boxing Legend
Joe Louis, I knew about the Max Schmeling/Joe Louis fights. I could explain to a small group that was reading
The Berlin Boxing Club
that Max Schmeling was a real person and that he was a German national sports hero during the WWII era. When I was listening to
The Mighty Miss Malone
, I understood what Joe Louis meant to the United States when he fought Max Schmeling, and that he brought blacks and whites together while they rooted for him.
I also have countless stories of places I've visited that meant more to me because of a nonfiction picture book I had read. These books are SO important in piquing interest in further research, building background knowledge, and supporting larger studies about various topics. Thank you, Alyson Beecher, for encouraging all of us to read these treasures! Now on to what I read this week!
A little egg/nest/baby theme this week - perfect for spring! These two make the perfect companion books.
Egg: Nature's Perfect Package
by
Steve Jenkins & Robin Page
Yet another beautiful and informative book by this dynamic duo. We are treated to egg-related information like egg size, places where animals lay eggs, how eggs are protected from predators, the ways they are carried, and how babies emerge. As usual, I am fascinated by the creativity of nature and amount of research that goes into teaching us about it, and the brilliance of Jenkins's illustrations when I read these books.
A Nest is Noisy
by
Dianna Hutts Aston
and
Sylvia Long
This may be my favorite Dianna Hutts Aston/Sylvia Long of the series (of course, I might have said that about each one when it came out). The illustrations are beautiful as usual, and the lyrical style of the information is a wonderful example of literary nonfiction. I recognized a few nests that were also mentioned in
Egg
above! Did you know that some people actually EAT swiftlet nests, which are made entirely of cave swiflet saliva?! It's one of the most expensive foods eaten by humans!